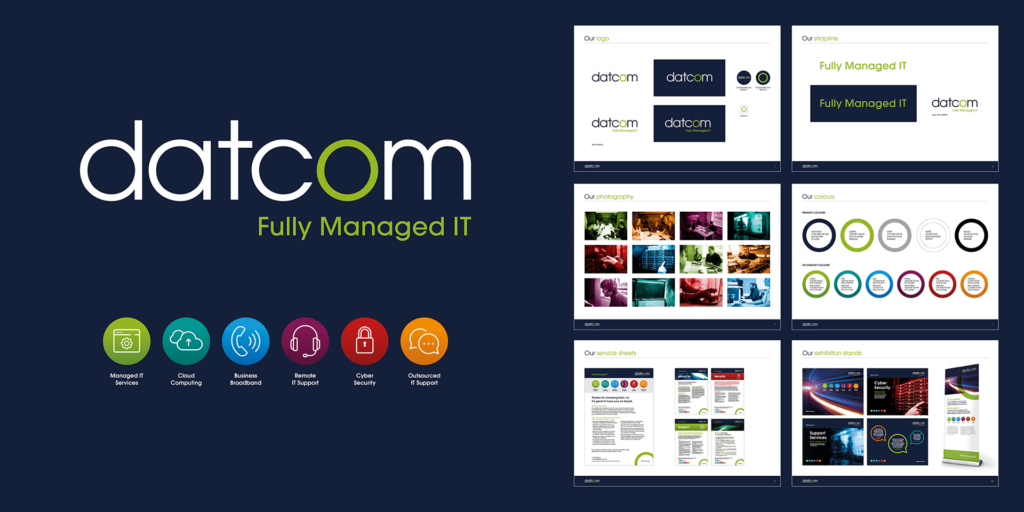 There came a moment, a few months ago, when we realised that perhaps our existing brand was no longer communicating who we are, what we do and how we do it. So in May 2023, we showcased Datcom's fresh, new look.
It's been 10 years since our website last had a makeover and a lot has changed during that time. We've continued to grow as a business, adding new services to our portfolio, such as Phishing Assessments and Cyber Security Training. We've also gained more team members with specialist knowledge and skills, growing from 7 people in 2013 to 25 today. We're delighted to say that we have clients who've been with us since the beginning and new clients who we've partnered with more recently. Today, we offer more services that ever, helping businesses to be efficient, innovative and secure.
Why brands matter
If you've ever worked on a brand refresh, you'll know that it's not a quick or easy task. So why bother? Well, your brand identity is an expression of who you are and how you fit in the marketplace. It sets the tone for how people see you and is a reflection of your culture and company 'personality'. In practical terms, it allows new clients to find you and ensures that people understand what makes you different. It also helps existing customers to stay engaged and informed. Not least, it is an important tool for attracting great new talent and skills. So it was vital that we made sure our brand was a true expression of who we are today and what we have to offer.
What are the key parts of our brand?
You've probably noticed that we look different. But refreshing a brand isn't just about choosing new colours. We had to dig deep into what our company stands for to ensure that our refreshed brand would accurately reflect our unique identity. We revisited our core values, our position in the marketplace and our unique offer and proposition. We thought about what makes us different and what our customers want from us. We even looked around at our competitors to see how they look and feel, so that we could be sure to stand out from the crowd. You can find out more about what makes us tick and our history of customer service here https://datcom.co.uk/about-us/our-business/overview-history/
How we did it
We asked our team members what the Datcom brand means to them. We also spoke to many of our customers and local businesses to gain their thoughts and insights. We wanted to build a brand that better reflected the people and the work we do – a professional, premium service, yet cost effective with a face behind the laptop. It's the people who make Datcom what it is and they're the reason our clients stay with us over the long term. So it made sense to have our faces on the website, not stock images – although some of our engineers were a little reluctant to pose for the camera! On the other hand, we were thrilled that our customers were more than happy to be filmed talking about why they choose Datcom. We're very grateful for their time and for their confidence in us. It's these strong relationships that create mutual success.
Of course, security is vital to every website. As you might expect from our expert team, we made sure the site is super-secure with all the relevant support. Online security should be at the top of every business owner's list. Sadly, there are always hackers lurking and it's vital that all data is protected from the latest risks. We use intelligent monitoring and auditing to stay one step ahead of threats. We can help and support your business with online security too. Please get in touch if you'd like to talk about this with a member of our team.
What about the words?
When it comes to a brand refresh, most people think about the way things look. But it goes much deeper than that. As a company, we specialise in IT and cyber security and most of our team members are comfortable chatting away in techno-babble. At the same time, it's important that we remember that most of our customers aren't digital specialists. We don't want to bamboozle you with too much technical information – and that goes for the website too. So we hope that as you browse the website, you'll find plenty of clean, simple, no-fuss content that's easy to digest and understand. No endless acronyms or insider jargon – just human-to-human explanations and content that's relevant to you and your business.
What the brand refresh means for our customers
That's enough about us. At the end of the day, the Datcom website isn't for us – it's for you. As we worked on the brand refresh, we were constantly aware of you – our customers – considering what you want from us and how you'd like us to communicate. From our colours to our graphics, from our tone of voice to the website structure, it all comes down to building strong, lasting relationships with you. We've refreshed our brand to modernise our image and reflect where we are now as a business, while maintaining our core identity. The Datcom brand should still look familiar to our existing customers, but it has a contemporary, fresh feel with more focused messaging and clearer updates about our products and services. We hope that the new website is a window into the services we offer and the locations we serve. Providing IT support, cloud and cyber security services across the UK means we're always enthusiastic about sharing up-to-date news and information that could benefit your business. If you can now find things more easily and can quickly discover new ways to protect and optimise your data and systems – then we know that every minute of creating the refreshed brand has been worth it. You'll notice our new look on service sheets, proposal documents and exhibition graphics too – in fact, all our marketing and sales materials will look and feel a bit different. Please let us know what you think of the refreshed Datcom brand. Customer feedback is always more than welcome.