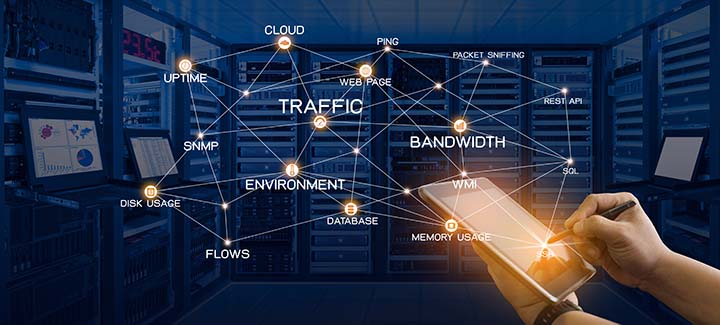 At Datcom, one of the monitoring tools for this purpose is called PRTG. It is used by many businesses around the world and it has excellent continual updates for new hardware and services.
PRTG lets us monitor all networked hardware on client premises, anywhere in the world. A probe is installed on a local server for this purpose, which then securely forwards all of the data back to us at Datcom. Simple devices can be monitored to a level where we can tell if they are turned on or not. More advanced devices, such as servers, can have many sensors installed on them, so that we can check the hard discs, RAM usage and so on. We can set the monitoring parameters to any relevant value – for example, to produce alerts if the server is getting low on hard disc space.
As well as the onsite probe, we also have a probe installed at our Datcom Datacentre. This means we can externally monitor client broadband connections, giving us a certain level of redundancy. It also helps us to pinpoint where a problem exists if there are connectivity issues on a client site.
When sensors are triggered to either warning or error levels, notifications can be sent via email or SMS to specified users. The level of notifications can be configured based on client requirements. For example, time delays can be set so that notifications are not sent until the error has been present for a set period of time, emails can be sent if the problem gets worse and, when the problem is fixed, you can choose whether or not the clients are notified.
Clients can be given access to the PRTG readouts, so that they can monitor their own hardware and see how their systems are performing. Sensors can be used as an information tool, as well as for troubleshooting. For example, network traffic flow, processor time or hard disc throughput can all be monitored, giving clues as to possible upgrades or spare capacity. We have a team dedicated to monitoring and dealing with any problems that arise. This proactive support is one of the key benefits, as problems like low disc space are identified and fixed before they become a problem on the client side. We monitor most sensors every 60 seconds, so we have a real live view of all client systems – we often know about failed systems before the clients do, which means we can start the troubleshooting procedure before a major impact to business processes.
In a complicated network with potentially hundreds of hardware items, checking them all manually every day is simply not feasible. PRTG is the answer to that problem. On a single screen, your entire business can be monitored (and problems tracked) within seconds of them arising. In a world where IT services are so crucial to every business – whether they be credit card machines or servers – monitoring is more important than it has ever been before. As experts in this field with many years of experience, Datcom is in the best position to look after your business with PRTG.